See kuttanad boat cruise in Alappuzha the venice of the east
See Kuttanad Boat cruise
This boat cruise is organised by the Kerala State Water Transport Department a department under the state government of Kerala. This is the most economical cruise to see the important places in kuttanad , vembanad lake and the backwaters of alappuzha district of kerala. alappuzha is also called the venice of the east.
... .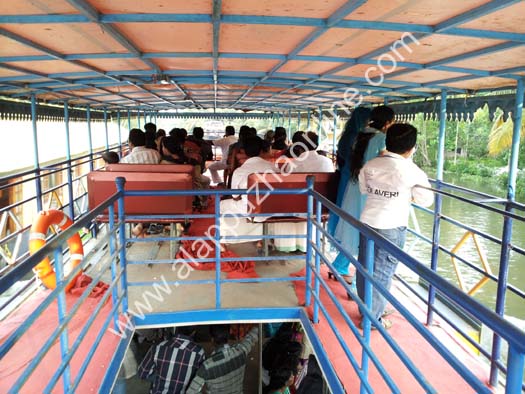 See Kuttanad Boat ride
kuttanad is a region covering three districts in kerala namely alappuzha kottayam and pathanamthitta. This area is well known for its paddy fields. The other geographical pecularities of this area is that it has one of the lowest altitude in india and its one of the few places in the world where farming is done around 1 to 3 meters below sea level. farmers of this area are famous for biosaline farming. Food and agriculture organisation (FAO) has declared the kuttanad farming system as a globally important agricultural heritage system (GIAHS).
During this boat trip visitors can see the paddy fields where farming is done below sea level.

. . .
Route of See Kuttanad boat trip
Starting from the bus-stand jetty (near KSRTC bus station in alappuzha town a 3 minute walk) , the boat will touch Soman Jetty, Arjunan Jetty, Kavunkal, Kuppapuram, Puthenkayal, Pandissery, LC Jetty, pass via School Jetty and end at the Kainakary Roadmukku Jetty .
Return trip: Goventha, Muttel, Kolathu, EMS, Kannitta, Punchiri and Vilakumaram and reach Alappuzha via the canal/backwater where Nehru Trophy boat race is held..

Daily 13 trips : First one starting at 10.45 a.m., and the last one, at 8.45 p.m.
charges: 120 rupees for top deck .
Trip timings are subject to change due to covid 19
for latest timing contact mobile phone : +91 94000 50324 ( alappuzha station master office) One trip almost every hour .... .
see kuttand boat trip

A new boat double deckered boat will be introduced by first quarter of 2022.
..
See kuttanad boat trips
Various other boat trips are available in alappuzha. Please check links in the menu at the bottom of the page .. ... .