champions boat race league CBL kerala india
champions kerala boat race league
Snake boat racing league. 2022 race september 4 to november 26 2022 in 12 venues .
The race was not held in 2020 and 2021 due to covid.
Snake boat ( called chundan in the local language malayalam) A typical snake boat has 95 rowers plus 7-10 nilakar or standees who provide timing to the rowers. CBL is india's first eve boat race league.The league is in the model of the IPL league for cricket. With a Nine snakeboats will participate.
The boat races was helpd every Saturday from August 31 to November 23 2019 between 2.30 p.m. and 5 p.m..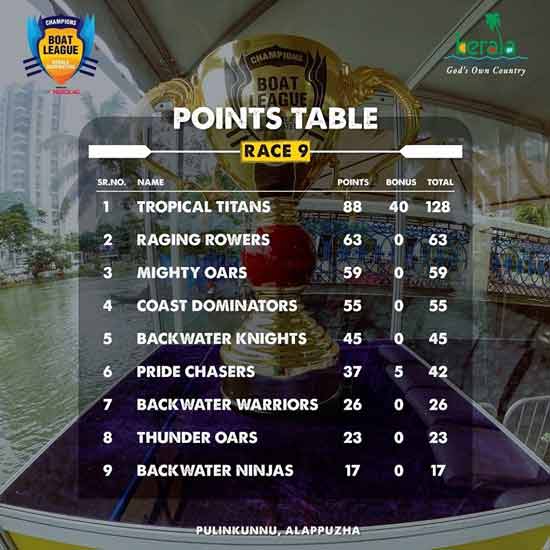 champions boat race league schedule
CBL 2022
12 races 12 venues
september 4 th nehru trophy venue alappuzha
september 17th tazhathuangady kottayam
september 24 pullinkunnu alappuzha
october 1 2022 piravom ernakulam
october 8 2022 marine drive ernakulam
october 15 th 2022 kottapppuram kodungallur trichur
october 22 2022 kainakary alappuzha
october 29 2022 karuvatta alappuzha
november 5 pandanad chengannur alappuzha
november 12 2022 kayamkulam alappuzha
november 19 2022 kallada kollam
november 26 2022 presidents trophy kollam

CBL 2019:
12 races in 12 venues.
August 31 2019 Nehru trophy punnamada lake, winner Tropical titans
,
September 7 th 2019 Thazethangadi kottayam,
September 14th 2019 karuvatta alappuzha
September 28th 2019 piravom(Ernakulam),
October 5th Marine Drive Ernakulam,
October 12th 2019 kottapuram trissur, winner: Tropical Titans Nadubhagam
October 19th 2019 kottapuram, winner; Tropical Titans Nadubhagam
October 26th 2019 Kainakari alappuzha winner Tropical Titans Nadubhagam
,November 2 2019 Pulinkunnu alappuzha Winner Tropical Titans (nadubhagam)
November 9th 2019 Kayamkulam (Alappuzha),
November 16 th 2019 kallada kollam,
November 23 2019 ashtamudi lake kollam winnertropica titans.. .
champions boat league
CBL is ranked the fourth highest prize money for sports in India.
The first three winners of every CBL race ill get Rs 5 lakh 3 lakh and 1 lakh respectively. All participants get abut 4 lakh per race. races will be held between 2:30 pm and 5 pm.Will start on August 10 with the Nehru Trophy boat race at Punnanmada lake in Alappuzha and ends with The President Trophy Boat Race in Kollam on November 23 2019. .... .
champions boat race league
Participating snake boats in 2022
1. tropical titans nadubhagam
2. mighty oars devas
3. coat dominators champakulam
4.Raging rowers karichal
5. Backwater warriors payipadan
6. Thunder oars mahadevan kadu kattil thekkethil
7. Backwater knights ayaparambu valiya dewanji
8. Backwater ninja Gabriel
9. pride chasers veeyapuram

Participating snake boats in 2019 were
1. Tropical Titans pallaturuthy boat club Nadubhagam,
2.Pride Chasers vemband boat club veeyapuram chundan
3.Mighty Oars NCDC Kumarakom Devas,
4.Coast dominators UBC kainakary, champakulam,
5.Raging Rowers, police boat club Karichal,
6.Backwater warriors kumarakom town boatclub Payipadan,
7.Thunder Oars KBC/SFBC kumarakom Mahadevikad katil thekkethil,
8. Backwater knights village boat club edathua Gabriel chundan
9.Backwater Ninja, brothers boat club Edathua St George chundan ... ...
champions boat race league
Winner will be decided on points. Winner 2019 season ; Tropical titans pallathuruthy boat club Nadubhagam chundan snakeboat.. ...