Mannar - The Bell Metal Town alappuzha kerala india
Mannar
Mannar is an major business town mid way between Mavelikara and Tiruvalla , in Alappuzha District of Kerala state, India , on State highway 6. It is situated on the banks of the Pampa River .
Mannar is situated at only 10 km from Chengannur , Thiruvalla, Haripad and Mavelikara. Mannar is connected via 4 railway stations (Chengannur, Thiruvalla, Harippad and Mavelikara) at a distance of 10 km each on four sides. Mannar grama panchayath mannar p o pin 689 622 phone : 0479 2312238 email: mannargp@gmail.com.
Bronze metal industry
The place is well known for its flourishing Bronze industry. Mannar is very famous for Vessels, Lamps, Bells etc. made out of Brass, Bronze and other metals. There are hundreds of traditional 'ALA'S' in Mannar. Also there are many small scale manufacturing establishments engaged in this business, employing traditional workers. Craftman from this town created a lot of world classic products like Worlds biggest Varpu displayed at Delhi Museum, Worlds biggest Church Lamp at Kuravilangad Church, Worlds biggest Temple Lamp of Chettikulangara Devi Temple, Worlds biggest Temple Bell at Simla Temple, Worlds biggest Church Bell at Cathedral Church New Delhi and Replica of famous "Tree of life and Knowledge" lamp are few among them. This town boasts the reputation of being second destination in India for these metal products, second only to Market leader manufacturing city Moradabad . . .
Religious places Mannar
Parumala church, Panayannar kavu devi temple, Thrikkuratti Mahadevar Temple , Mannar Juma Masjid, Kuarrattikadu Pattambalam Temple, Oorumadom Badrakaali Temple, Vishavarsherikkara Subrahmanya Swami Temple and Chakkulathu Kavu temple, are some of the important religious places in and around Mannar . Panayannarkavu temple is said to be thousands of year old.
The ancient Panayannar Kavu devi temple is famous for its Sarpa kavu and oil painting drawn on Sricovil. One of this painting became cover page for Sri. E.M.S. Nampoothripad's biography (veteren Communist Leader and Ex-Chief Minister of Kerala). .... .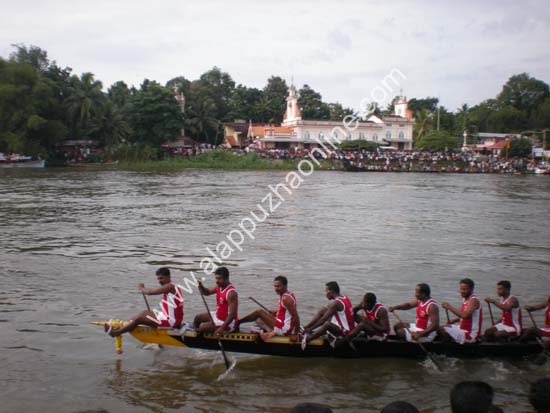 Mannar
The annual festival conducted at Parumala church attracts tens of thousands of devotees.
Thrikkuratti Mahadevar Temple is one among 108 sivalays built by Lord Parasurama. It is believed that the mammoth thrikkuratti mahadeva temple compound wall was built by Bhootangal of Lord Paramasiva in one night. The unique festivities of Thrikkuratti temple (Sahasra kalasam, Maikatti puja and Sivarathri Nritham) attracts lot of pilgrims.
The antique wooden carving of Thrikkuratti mahadeva temple sricovil came to lime light recently through visual media, attracting lot of art lovers including foreginers. At a special Nada (gate) on east side of the Thrikkuratti temple compound wall, other religious members, in particular, Muslims, present offerings daily basis. This practice is believed to be centuries old and this is considered to be a true embodiment of religious harmony. The Thrikkuratti Mahasivarathri Festival, only next to Aluva sivarathri in terms of mass congregation, attracts thousands of devotees. The West Nada ( Parvathi ) will be open for ten minutes during Sivarathri Nritham on Sivarathri day only. All other days during the year it remains closed. The Srikovil of Thrikkuratti Mahavishnu temple is built on North indian Architecture . . .
Mannar
The 'Anpoli' conducted as part of festival in various temples is a very attractive and unique one. The Aalthara Ganapathy temple at Kannamkavil Muthaaramman Temple attracts lot of devotees, in particular motorists.

The Eramathoor Soorya temple is belived to centuries old and is known for being one of the three known temples in kerala dedicated to diety "SUN". The Adithya Ponkala conducted at this temple attracts lots of women devotees from South Kerala.

The annual Mahathma Boat Race , conducted during Onam festival season , attracts lot of visitors and water sports lovers including foreigners. .